Description
The Opton is a laser therapy device offering 2 wavelengths and 5000 mW
 of power. NMLmedical offer full training, UK servicing and finance options.
Payment & Security
Your payment information is processed securely. We do not store credit card details nor have access to your credit card information.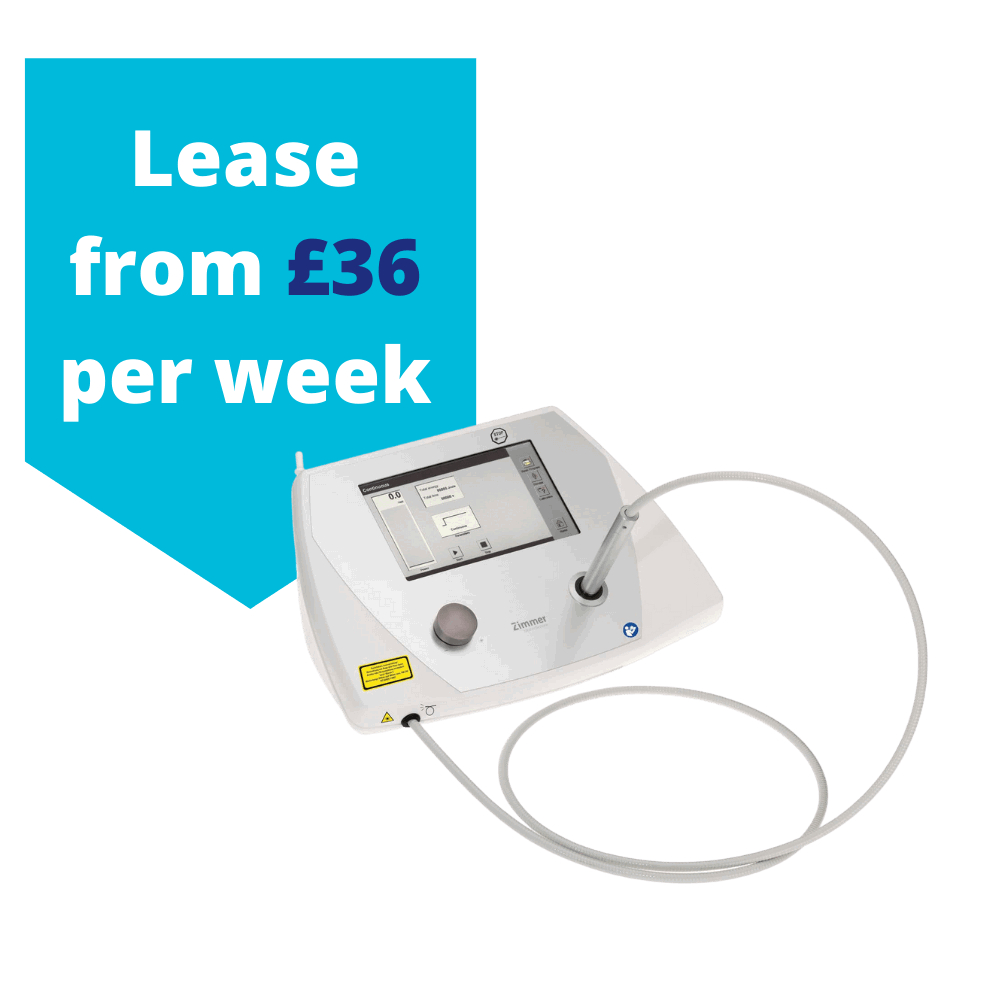 At NMLmedical we can offer leasing on your Zimmer Device, leasing your device offers a number of benefits including:
Budget Control - Leasing payments remain fixed for the duration of the contract so you know exactly what you're paying.
Correct equipment - why settle for inferior equipment? spreading the cost of a device over it's life makes sense and ensures you get what your business needs.
Tax efficient - Benefit from a lease which is 100% allowable against pre-tax profits.
A strong point of light for your Pain Therapy
Highly effective pain therapy paired with easy and convenient operation at the push of a button – that is the new Opton laser therapy device in a nutshell.
Natural healing with the power of light
Opton – high-power laser therapy up to 5W. The highly effective laser emits up to 5 Watt of power simultaneously on two wavelengths using an ergonomically designed applicator, thereby offering a very wide range of therapy. Two easily mounted spacers and an integrated calibration sensor ensure high-safety laser therapy. The method is used very successfully by therapists worldwide. With Opton, Zimmer MedizinSysteme offers a system that compactly combines all advantages of the treatment with the lowest operating and maintenance costs while providing ease of use and maximum flexibility.
The high-power Opton laser is applicable for treating the following areas: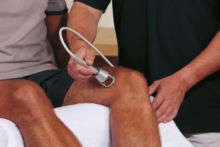 Musculoskelettal diseases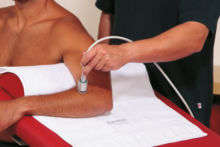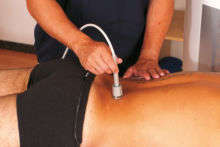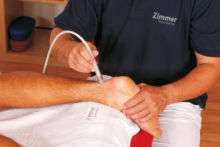 Neuralgia and skin disorders
2 Year Warranty and UK Support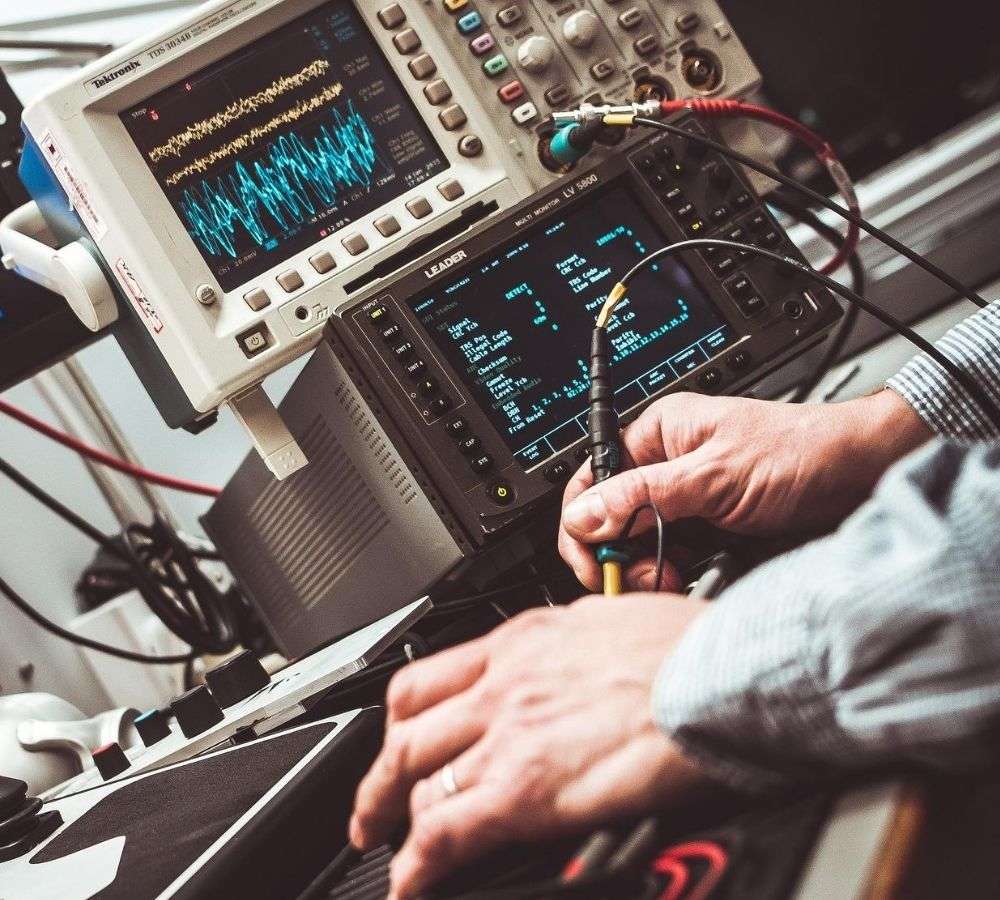 All of our Zimmer devices have a 2 year warranty included.

We also have a dedicated UK service centre and offer product training along with full technical support.
Operating voltage


100-220 V~, 50 Hz / 60 Hz




220V~ / 60 Hz

Power consumption


Max. 100 VA

Dimensions (HxWxL)


32,2 cm / 23,4 cm / 13 cm

Weight


2,5 kg

Class 4 Laser




Comply with relevant regulations
Laser diodes


810 nm and 980 nm wavelength

Output power


Max. 5W

Modes of operation


Unpulsed, serial pulse, single pulse

Treatment area


Min. Ø 0,8cm2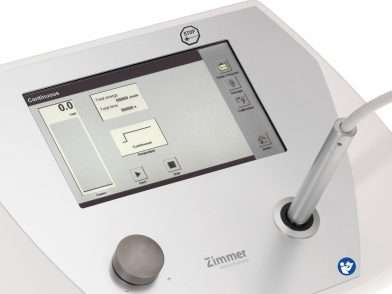 The colour touchscreen makes operation fast, clear and easy.

The touchscreen can be used to select the various treatment recommendations. The therapist is provided with application recommendations as well as professional information about the treatment.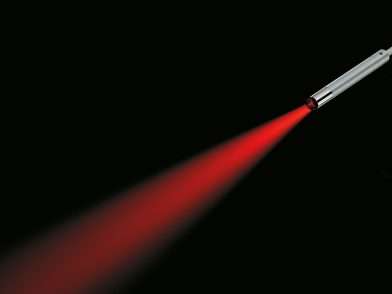 The penetration depth of laser light is a function of power.

The extraordinarily high power of Opton means sufficient intensity to reach even deep tissue layers. The power of the Opton laser is infinitely variable up to 5W. Opton thereby combines the laser radiation of two suitable wavelengths with exceptionally high power.
Two wavelengths in one device
Opton has two wavelengths in the near infrared range. Infrared lasers achieve positive results for the described indications. Both wavelengths are absorbed by body tissue (water, blood, melanin) to a much lesser extent than other wavelengths, for instance those in the visible range.

The 980 nm wavelength has a lower tissue-penetration capacity, is absorbed near the surface and has an analgesic effect via a reflex pathway.

The 810 nm wavelength has a far greater tissue-penetration capacity and has a biostimulant effect, resulting in an acceleration of cellular activity.

The simultaneous application of both wavelengths in a single treatment session optimises the therapeutic effect since superficial pain receptors as well as deeper tissue structures are stimulated. Both wavelengths are simultaneously emitted at the same power.